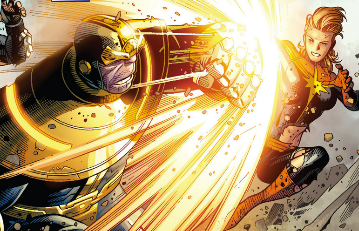 To wrap up Marvel's latest event, I wrote about Infinity #6 over at Sound On Sight and talk about how the battle is actually more in the background.
There's this huge battle that's at the center of this issue, but really so little depends on who is triumphant, whether it's Thanos, the Hulk, Thor or any of the other Avengers. The real struggle for victory is done through the sly machinations of Maximus, Black Bolt's brother, and the Ebony Maw as he whispers his half truths into Thane's ear. The fight between the Avengers and Thanos is actually just a backdrop for these true displays of power and cunning. There's the power to destroy worlds, and then there is the power to make those worlds dance on your strings. Maximus and Ebony Maw are the true victors in this battle as they both have the most to gain. The Avengers versus Thanos is the distraction they need as everyone is focused on the end of the world rather than the understanding of what it really means to be in control of their situation.
You can read the full review here.
Similar Posts: